As the world's first Muay Thai Stadium, Rajadamnern Stadium is a long standing entity of Muay Thai and lives to represent the many fighters' sweat, tears, blood and commitment to preserve this ancient combat. Preserving this 8 limbs sports, fighters from across the world swarm to this amphitheater to show off their well-sharpened punches and sportsmanship like many others that came before them did.

Rajadamnern Stadium is on top of the list when you are searching for where to watch Muay Thai in Bangkok.

The colosseum of Muay Thai - Rajadamnern Stadium
The most striking characteristic of this stadium is its colosseum shape that is able to occupy up to 7,000 people. Due to its layout, all seats in this theater offer 100% visibility and there is no such thing as a bad seat.

During the renovation, the structure of the stadium was preserved but was upgraded with LED lights that completely transformed the face of Muay Thai fights. Upon entering the theater, you will notice how it is much bigger than it seemed and make you feel as if you are walking into a futuristic version of gladiator.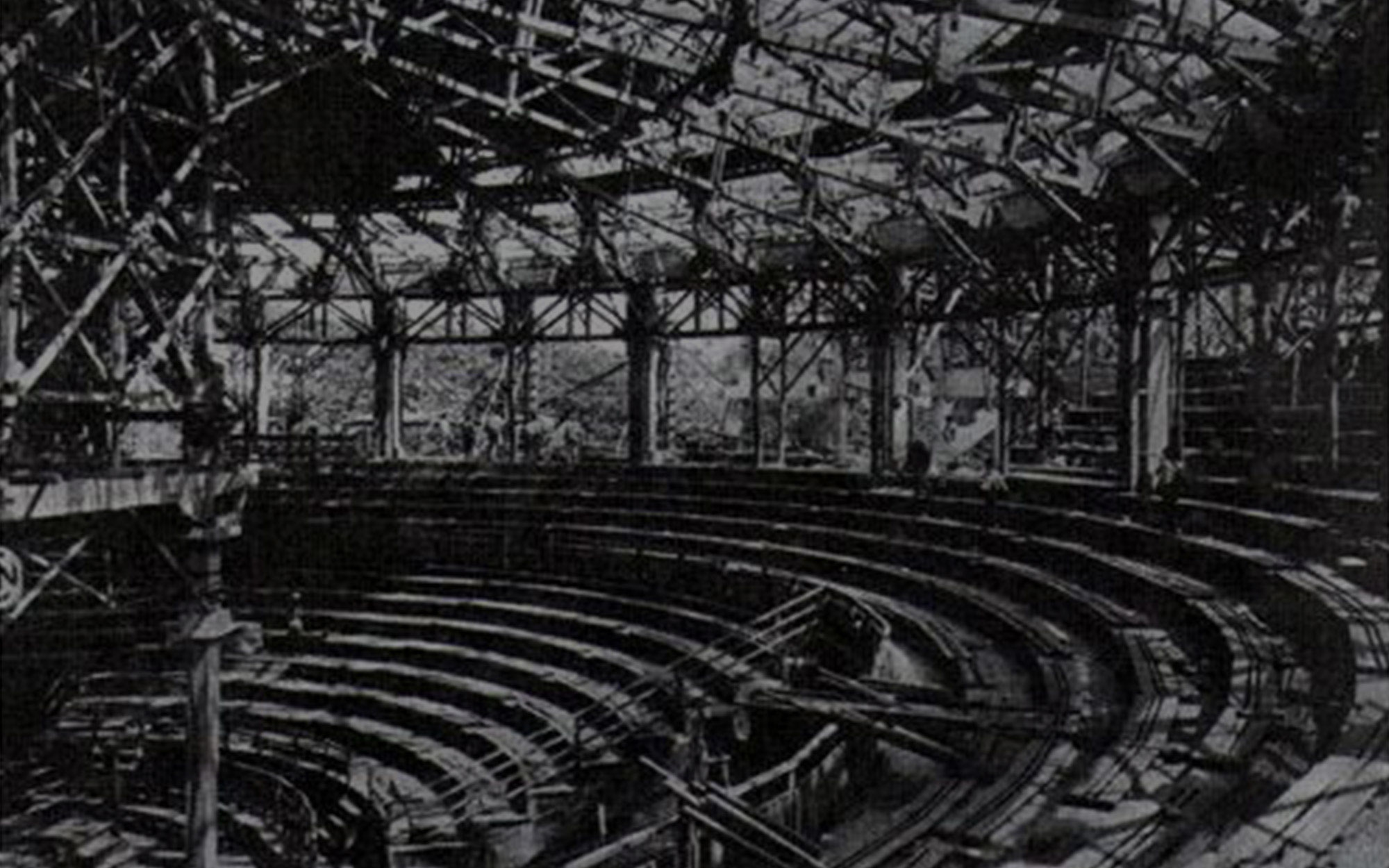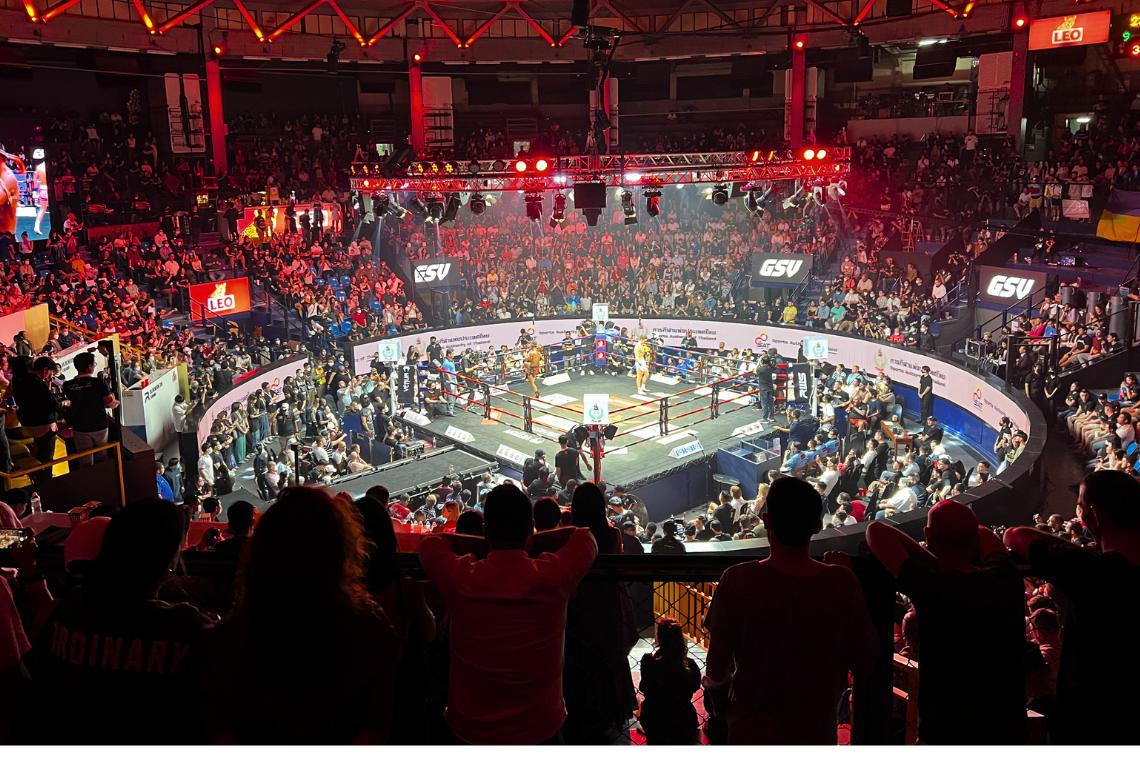 Photos credit: Rajadamnern Stadium
3 Types of Fights For 3 Types of Nights
The rajadamnern stadium groups its fights into three categories:
1. Rajadamnern Knockout (Mon, Tue, Fri)

If you want to see a boxing match for its knockouts, the Rajadamnern Knockout nights will deliver just that. With an 80% knockout rate, these nights will send shivers down spectators' spines. The fighters are mostly Thai but the spectators are from all over the world, so get ready to feast your eyes upon one of the world's most diverse boxing experiences.

7 bouts in total and 3 rounds per bout.

Freeflow drink on Tuesday

DJ playing EDM between breaks and rounds

Opening time: 19:00 - 21:00 hrs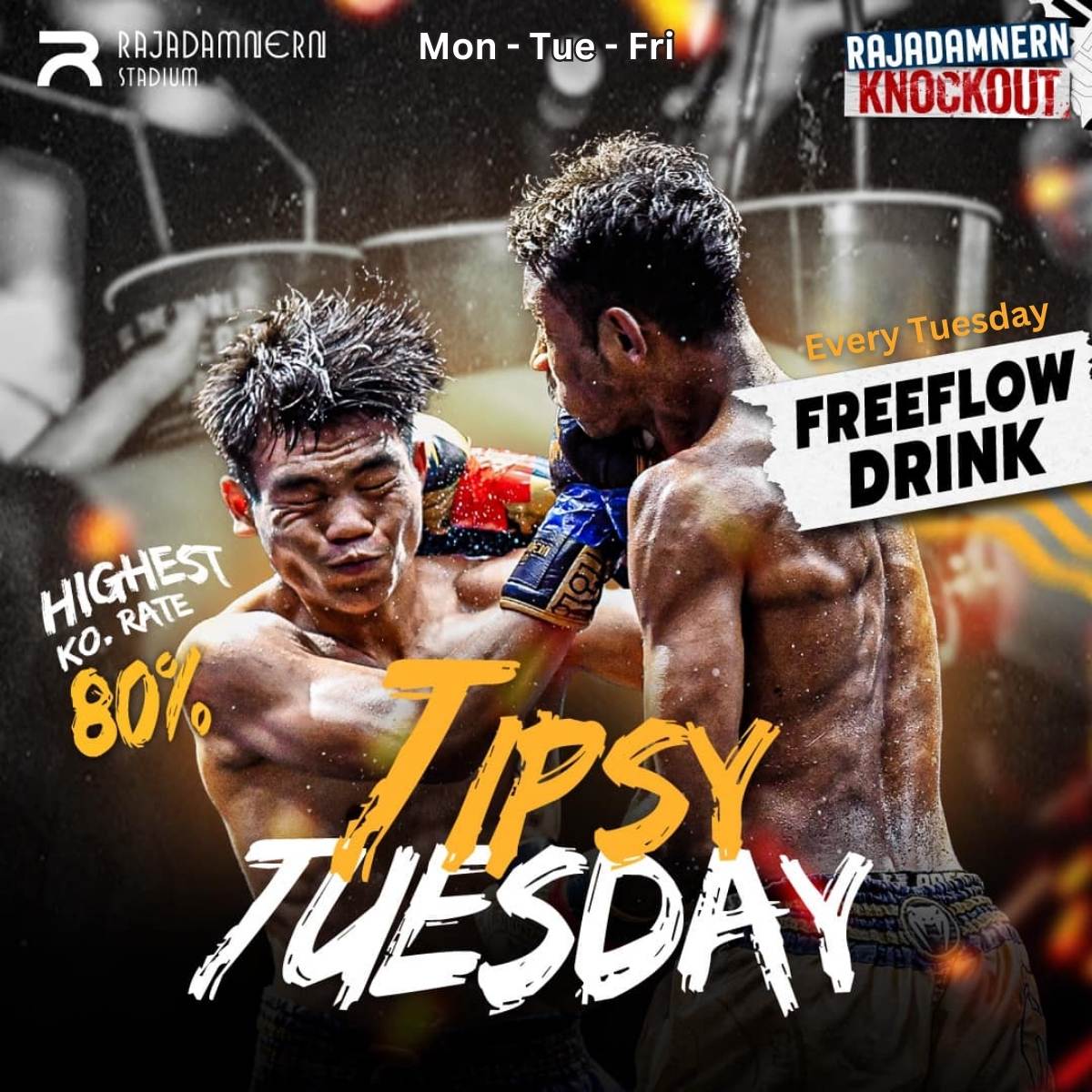 Photos credit: Rajadamnern Stadium
2. Authentic traditional Muay Thai (Wed, Thu, Fri)
Authentic traditional Muay Thai nights are also known as Promotion Nights. Like its name suggests, these are the nights Muay Thai promoters send their well-trained apprentices to show off their kicks and jabs.

Watch as rivals and friends battle it out on the ring. Stick around till the end of the night because the best is saved for last as you observe a spectacle of heated combat of professional boxers that are cleverly marketed as the highlight pair. These nights are especially popular amongst Thai observers for its underground betting. Upon visiting, you will notice many locals huddling together holding pieces of papers, using secretive hand gestures and supportive cheers, this is their way of placing bets on the fighters.
8 bouts per night and 5 rounds per bout

DJ playing EDM between breaks and rounds

Opening time 18:00 - 22:00 hrs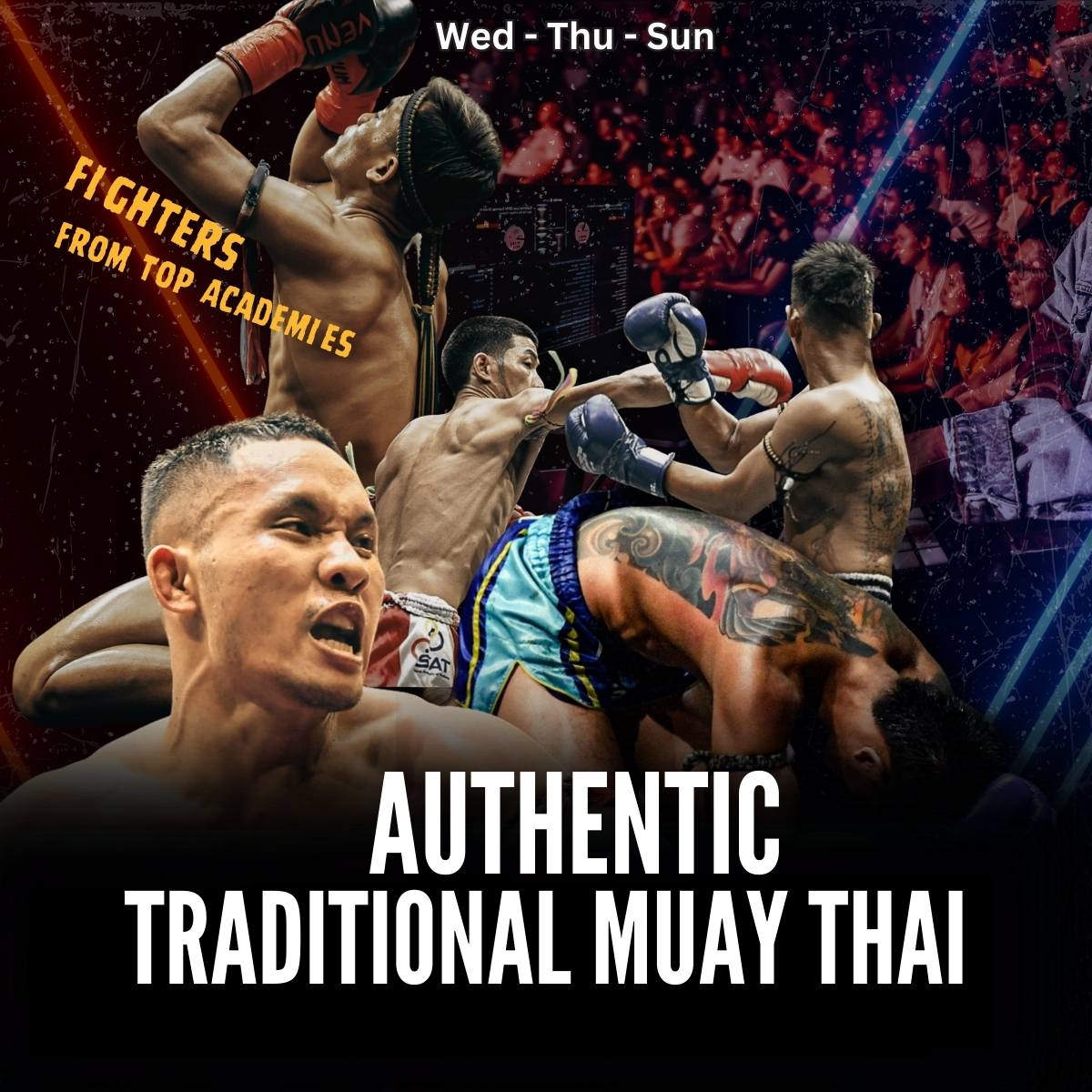 Photo Credit: Rajadamnern Stadium

3. Rajadamnern World Series (Sat)
The most sought after tickets are the Rajadamnern World Series (RWS) that takes place on Saturdays. These nights are reserved for tournaments of both Thai and International fighters, all with a strong background in practicing the ancient martial art, in other words, Saturdays mean serious business. Observe broadcasted cut-throat fights of famous boxers from all over the world in both men and women categories.
8 bouts per night and 5 rounds per bout

Free flow drink on Saturday

DJ between breaks and rounds.

MC entertaining between breaks and half time with kiss cams, flex cam etc

Ring girls announcing breaks and rounds

Opening time 19:00 - 22:30 hrs.
Tickets for the Saturday matches are sold out fast, secure your seat ahead of time to make sure you are on the list.

Book now Discounted price for Muay Thai Boxing Ticket at Rajadamnern Stadium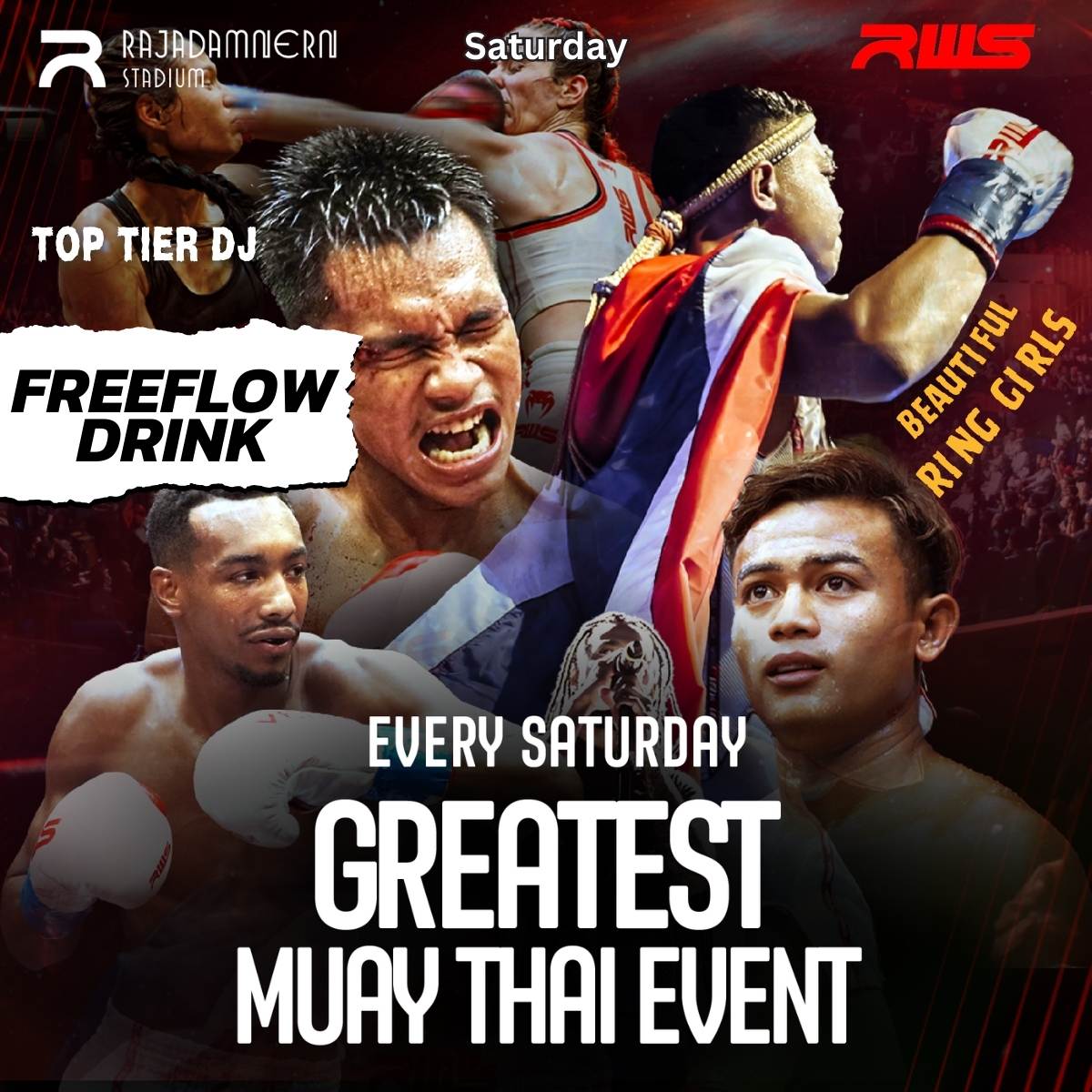 Photo credit: Rajadamnern Stadium
Rajadamnern Stadium Seating
There are 5 seat types all at different levels and prices.
Like the name suggests, ringside seats are right next to the ring where watchers can literally see each drop of sweat on the fighters' temples. These seats offer the most thrilling experience in the house and promise to get your heart pumping out of your chest.
Photo credit (right): Rajadamnern Stadium

Club class seats are situated on raised levels that line the theater in a circular manner and give watchers an unobstructed view of punches and kicks being thrown in front of you. The seats will be padded and are loved by those wanting to watch the show from an above and zoomed out perspective.
Photo credit (left): Rajadamnern Stadium
2nd class seats are at the same level as club class but are cement seats without padding. These offer views as great as the other seats at a fraction of the prices. You will really feel the heat among other locals as they shout and bet, pushing the pressure and excitement through the roof.
Get a taste of luxury: a private and unobstructed seat at the VIP zone. Offering both lounge and counter seats, the VIP spectators get VIP privileges. We are talking free flow drinks and snacks from soft drinks to LEO beer to hot dogs that you can order all night long.

Interest in booking the VIP Lounge to enjoy a private experience with business partners or friends? Contact us on WhatsApp (+66)95-5048282
Facility at the Rajadamnern Stadium
Food and drinks from the outside is not allowed, however, there are drinks and food stalls just a few steps outside of the theater. Your snacks options are popcorn, hot dogs, and potato chips. For drinks, there will be soft drinks and Leo beer. There are clean bathroom stalls on the outside as well.

For wheelchair users or spectators who have mobility issues visiting the Rajadamnern Stadium can enjoy the show from the ringside seats only because the other zones are raised levels that require climbing up stairs.

If you plan on driving to the stadium, please be mindful that parking can be limited.
Only wheelchair accessible for Ringside

Clean restrooms available outside the theater

Parking is available but is limited

Snacks and drinks can be purchased on location
Gift shop to bring home some merchandise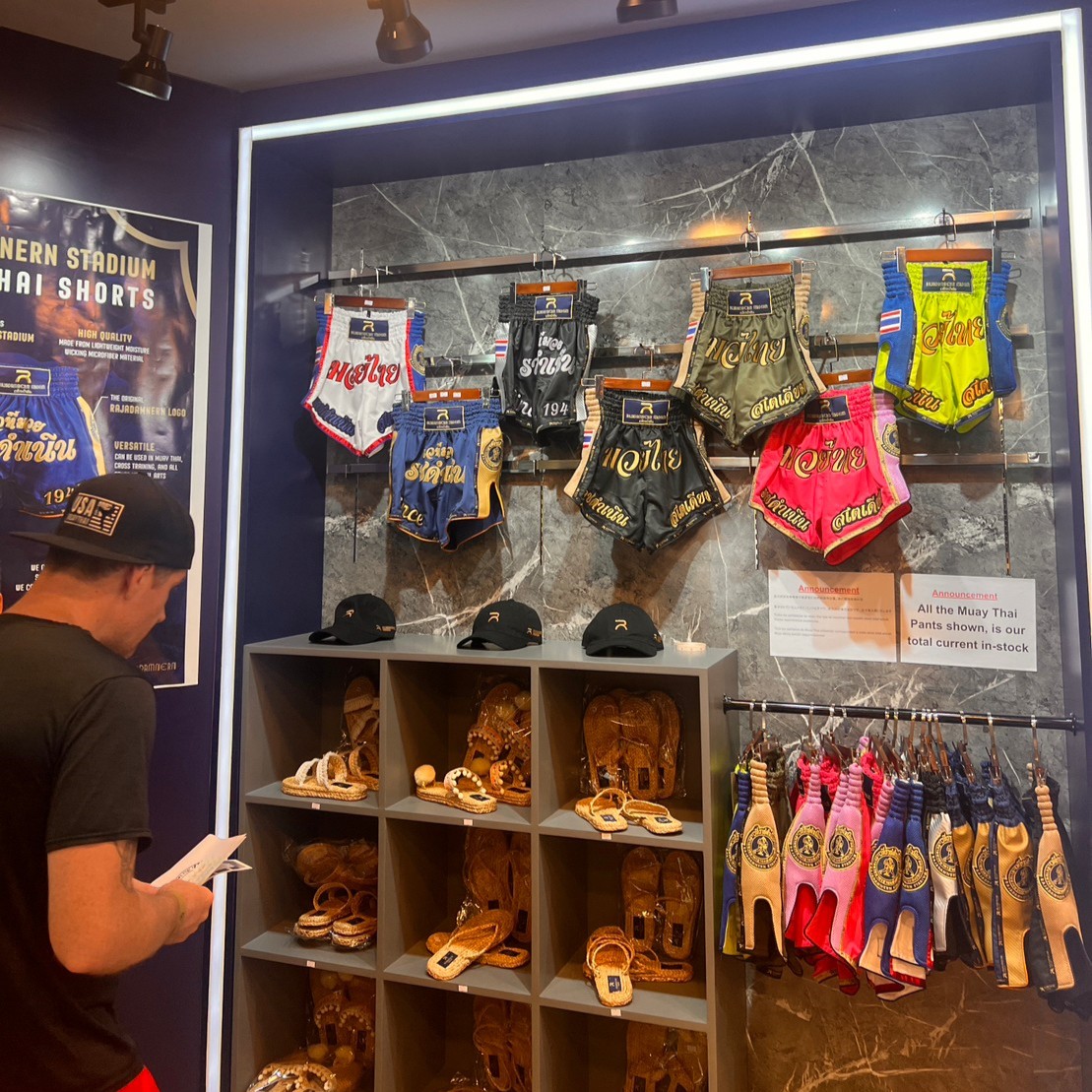 How To Get to Rajadamnern Stadium
The best option is to take a taxi since it is quite far from any BTS and MRT routes. For visitors looking to cut costs can take a combination of BTS and motorcycle, where you would take the BTS green line to Ratchathewi and continue on with a 'Win' or motorcycle taxi.
BTS green line to Ratchathewi station

Taxi
Muay Thai at Rajadamnern Stadium: An experience I did not expect.
With all that said, is the Muay Thai experience at Rajadamnern Stadium worth it? The answer is 100% yes. I went into this activity doubting that it would be anything special, but after stepping foot inside the stadium, I knew instantly that I signed up for something bigger than a boxing match. The lights, the sounds and just the whole energy in general is indescribable. You will cheer and flinch and sway as each punch is thrown and music is played.

No matter what kind of watcher you are or not a watcher at all, the Muay Thai experience at Rajadamnern Stadium is truly a must-do. You might walk out feeling inspired to start your Muay Thai Journey, or just have an overall increase in interest and respect for this ancient sport.

If you plan on visiting the Rajadamnern Stadium, I recommend booking in advance as tickets are sold out fast especially on the weekends.

Get your ticket: Discounted price for Muay Thai at Rajadamnern Stadium
Written by Ponhsetha Chamroeun